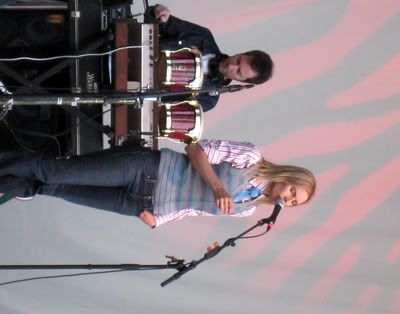 Before I get into this review, I'll admit straight out that I'm not an unbiased reviewer. Aimee Mann is one of my favourite artists, owing both to the fact that her melancholy songs are right up my alley (even though I'm a pretty happy guy, I'm drawn to sad music) and the fact that she's always been the first act on my iPod, so when I'm feeling indecisive about what to listen to, I simply press play, "How Am I Different?" starts from Bachelor No. 2, and I'm good.

She's probably been near the top of the list (that I'm surprised I haven't actually written down) of artists I wanted to see live, so I was pretty excited to learn that she was coming to play the Folkfest, and even more excited to learn that I got to go for free on behalf of Blogcritics Magazine. Yay for the internets!

With all that said, festivals are never the best way to experience a musician, particularly for the first time. At best, it can offer a sample of what they're like live. The acoustics aren't as good as indoors, bands only get to play partial sets as they have to share the stage with other acts, and the audience isn't all there to hear every act. I find Folkfest is particularly bad for the final problem. The acoustics are actually pretty good there, so the bands sound great. But the audience is largely made up of people who are there to be at Folkfest more than they are there for particular acts. The granola types buy four-day passes to take in the atmosphere, discover some music, and hang out. Which is a great thing for music in general, but kinda sucky when you're like me and go to hear specific acts.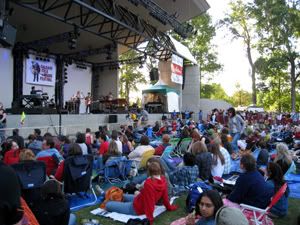 Because audience plays a big part in the success of a concert. It's why we pay to hear live music in the company of others. A cheering, rapt audience not only fuels the performers, but also becomes a self-sustaining entity that feeds itself. The best concerts I've been to had audiences that were completely into the music without being aggressive assholes. We clap along, sing along, cheer and hang off every song. The worst concerts I've been to either featured stupid kids wanting to mosh to indie rock (largely indifferent to the actual music), or passive audiences unfamiliar with the acts I'm there to see.

And this is how it is at Folkfest, especially in an instance like this, where Aimee Mann wasn't the evening's headliner (that honour went to Canadian rocker Sam Roberts, who followed Mann). What makes it worse than a typical festival audience is that the people who are indifferent at worst, passive at best, get the best seats. They get there when the doors open, and set up their tarps and chairs in the area reserved for seating. The more passionate and invested fans are pushed off the standing room section at the sides. I understand that the festival as a whole probably works better this way, and it's those people who come all weekend year-after-year that make the festival a success (and thus the sort of festival that will bring an artist like Aimee Mann to Calgary), but from the perspective of a guy who came to see Mann (and the earlier act The Weakerthans, another favourite band of mine), it's always a bit disappointing when dealing with a largely lifeless audience that I have to look past to see the stage.

Luckily, the disappointment was largely relegated to factors such as those, that have nothing to do with the performance of Mann and her band. And while it can be frustrating to watch people sit on their hands while one of your favourite performers is on stage, at least they didn't actually impede my ability to hear the songs or see the stage.

As I said earlier, for an outside venue, the acoustics are pretty good. Which is particularly important for artist like Aimee Mann, who doesn't have a stage show to speak of. It's just her playing her acoustic guitar (and bongos for about 45 seconds), backed by professional musicians on guitar, drums, and two sets of keyboards/piano. If you're the sort of person that needs more flash with your live performances, than I suspect an Aimee Mann show isn't for you (nor do I suspect that her music would particularly be your thing). But if you're the kind of person who appreciates live music for the music, then you'll be pleased to know that Mann and her band sound every bit as good live as she does recorded.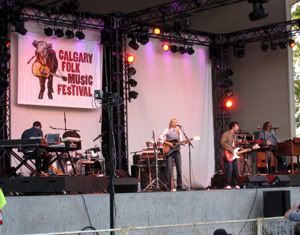 The set consisted of 14 songs, leaning heavily on her new @#%&*! Smilers album. It's a solid album that I've been enjoying since its release, but I must admit that I was a bit disappointed when I didn't get to hear her perform two of my favourites from her older albums ("Deathly" or "One"), or anything from her terribly underrated The Forgotten Arm LP (possibly because she designed that album as a concept album and thus doesn't feel the songs from it mesh well with the new material). As is often the case with new material (@#%&*! Smilers hasn't even been out for two months yet), the audience simply wasn't as familiar with her new songs as her older songs (that is for those in the audience that were familiar with her songs at all, and I'm not sure the group that yelled out "Voices Carry" count), and they did get a bit more into it when she dove into "Save Me" from the Magnolia soundtrack (easily one of her most famous tracks, having earned her an Oscar nomination).

But the new material is strong, with "31 Today" and "Borrowing Time" coming off particularly well live as the two most uptempo numbers of the evening, and when a band goes on tour to support their new album, it's hard to complain about them playing songs off of it. Plus, it's not like Mann is an aging star on a reunion tour, whose only relevance is older hits, driving fans to the washrooms en masse with the ol' "now here's something from our new album". She's stayed relevant since going truly independent in 1999 with her own record label (an experience she documents in her song "Calling It Quits", which I'm pleased to say she did perform). But if you're hoping to hear a concert heavy on tracks from Bachelor No. 2 (still her best album) or Lost in Space, you'll be a little disappointed in this tour (although since this was a festival set, I'm sure it differs from her usual setlist, so I wouldn't be surprised if she sneaks in more older numbers usual. On Live at St. Anne's Warehouse, "Deathly" was part of the encore, so I guess I can blame the fact that I didn't get to hear that on whoever decided Sam Roberts got to perform last... which was probably the right call given the audience).

After warming up a bit with the first couple songs ("Stranger into Starman" and "Looking for Nothing" for those of you scoring at home), Mann hit her vocal stride with new single "Freeway" and didn't look back. The best thing one can say about festival limitations is that they separate the wheat from the chaff. In a setting where it's more difficult to embellish sound or hide behind stage effects (particularly in a low-fi festival like Folkfest), without a loud audience to boost the proceedings, only the truly talented can thrive. And that's what Aimee Mann and her gorgeous voice did. It's a thin line between quiet indifference and rapt silence, and as the show progressed, I think the audience moved toward the latter as she progressed through her set.

Which is good, because if a folk fest crowd couldn't come around to the beautiful vocal stylings and bittersweet lyricism of Aimee Mann, then there's no hope for them. And while the circumstances around her performance weren't ideal, she still managed to meet my expectations, meaning that she's now moved from my hypothetical "artists I must want to see in concert" list, and unto my new hypothetical "artists I will always see in concert when given the opportunity" list. Here's hoping she enjoyed her Calgary experience enough to give me that opportunity.

Setlist:

Stranger into Starman
Looking for Nothing
Freeway
Phoenix
The Great Beyond
Save Me
Wise Up
Calling it Quits
You're with Stupid Now
Little Tornado
31 Today
Borrowing Time
Today's the Day
How Am I Different

Related Reviews:
Neil Young: Heart of Gold (2006)
Top Five Songs from the 90s
Top 20 Albums of 2005